A Mother Ahead of Her Time
With growing children under foot, in 1909 Jessamine
focused her camera on her growing family. Now she had
her own camera, a Kodak Brownie #2 purchased for the
startling sum of $2.00 in 1908. There were no available
classes in photography. However, she took several classes
at the high school in painting in 1906, as indicated in
her ledger book. Her early photos exhibit an intuitive
sense of how to capture her subjects, and create an
interesting image.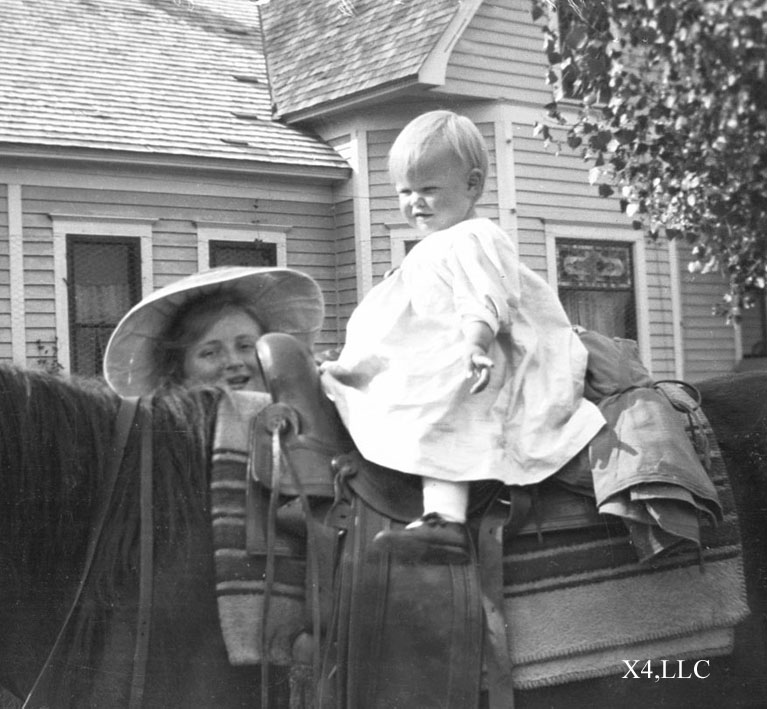 Jessamine's sister, Elsa Spear, with little Annabelle, 1908.
Two local artists played a pivotal role in Jessamine's
artistic development. In 1905 her father hired photographer
L.A. Huffman from Miles City, Montana, to capture his
growing ranch empire. Mr. Huffman's Spear Cattle Company
photos span the years of 1905 to 1915. One of Huffman's
techniques, that Jessamine quickly adopted, was securing a
plain or unobtrusive background to highlight a subject
(much like portrait photography). His expansive views would
give Jessamine ideas for her own future images of a working
ranch, like "Working 1000 Head for Shipping," pictured below.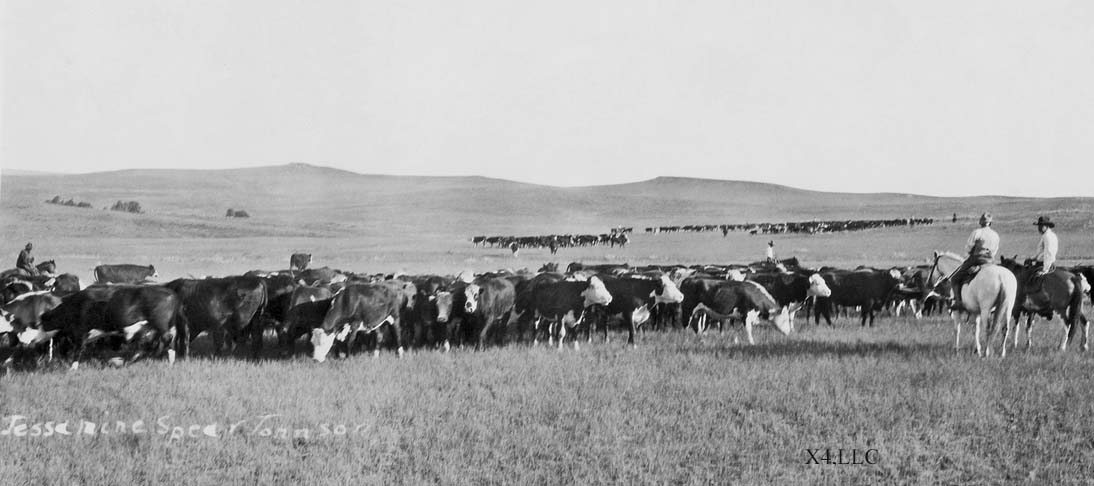 Another artist, painter William "Bill" Gollings, had become a
close friend of the family. Bill had worked for Jessamine's uncle,
Doc Spear. Bill spent three winters at the Chicago Art Institute
studying composition. During the summer of 1911 the Johnson and
Spear families were on a pack trip in the Bighorn Mountains with
Bill as an invited guest. Jessamine and her sister Elsa obviously
spent time grilling Bill on what he had learned. Bill loved to paint
his subjects up front and center—practically coming through the
frame at the viewer. Subsequently Jessamine began to experiment
drawing closer to her subjects so they filled more of the frame.

Going forward, Jessamine concentrated on portraits. She focused
on her squirmy children and triumphed. Good portrait photography
has one essential requirement, a soft non-distracting background,
or a complimentary background. Jessamine entered the following
image of her son Bill and baby Eileen for a 1916 baby photo contest
for the "Woman's Home Companion Magazine." This winning photo
was featured in the October 1916 issue. Notice that the line of the
chair back leads your eye directly to the toy cow. This use of
linear elements, such as a chair, a doorway, or a fence line,
became a part of her customary framing technique.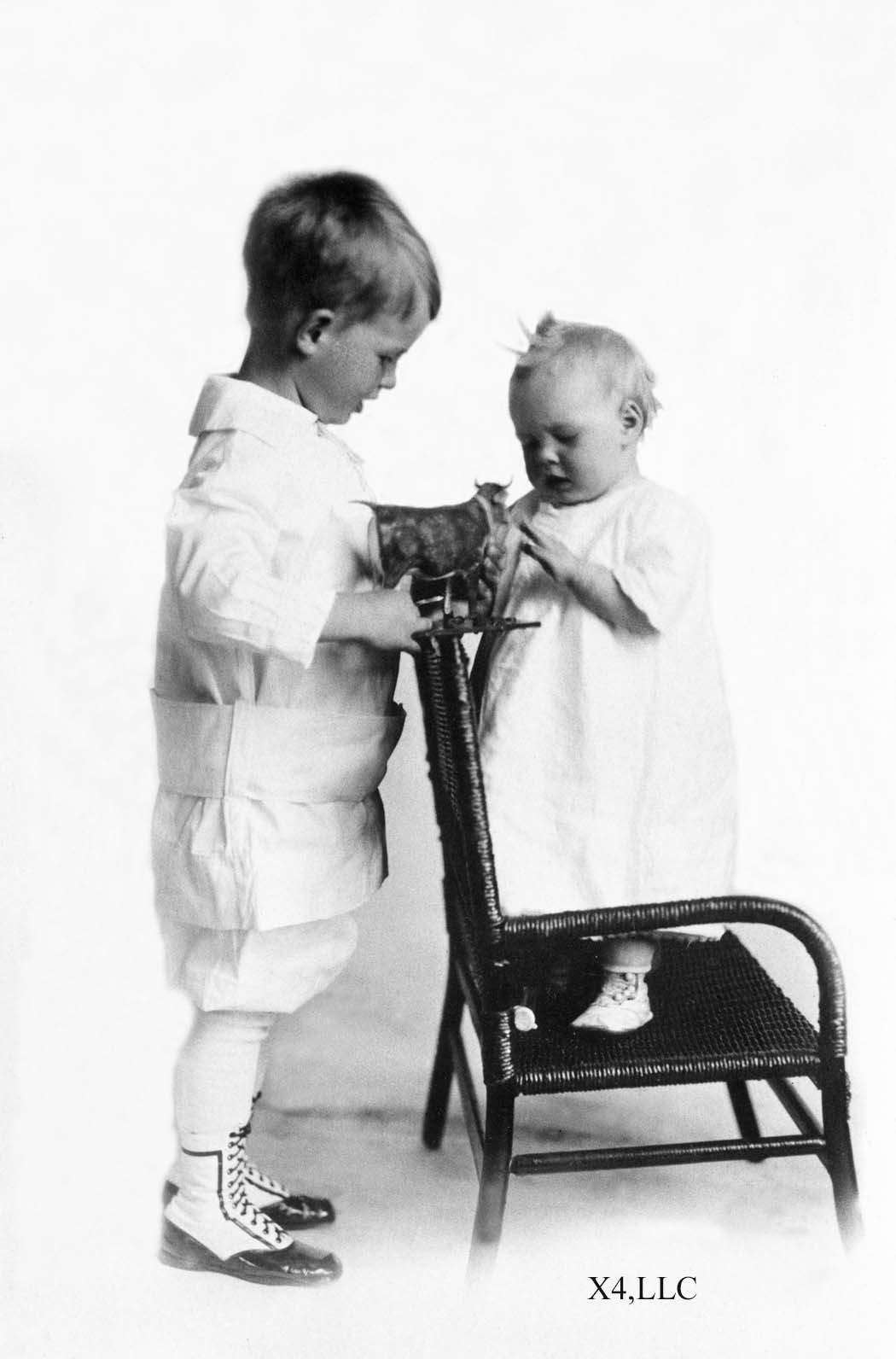 Bill and Eileen at home in 1916.
Speaking of shapes and lines, I want to draw your attention to one
of my favorite photos from early in Jessamine's career. It's from
the time when she and Will leased the Big Red Ranch east of Sheridan
from 1913 to 1919. One summer's day she captured an unusually
modern image that is totally about shapes and lines.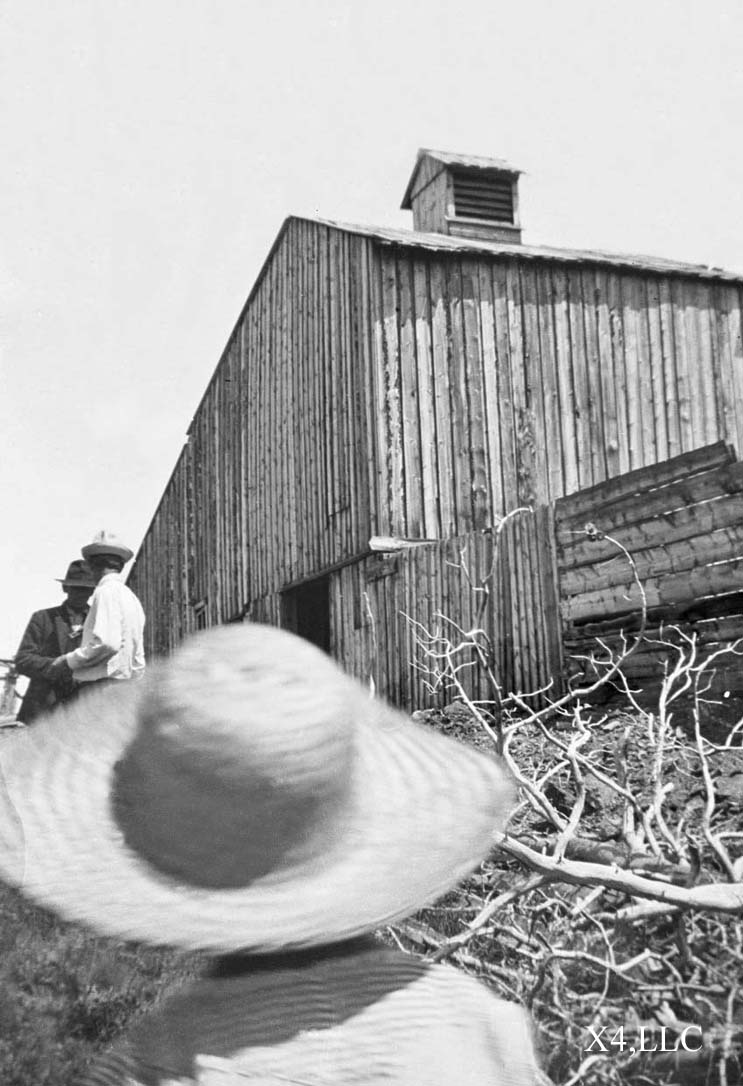 The Johnson family's financial position improved under Will's
guiding hand at the Big Red Ranch. Gathering his profits, Will
bought Dan Sullivan's Middlefork Cattle Company, Rosebud Creek,
Montana in 1917. According to Jessa's 1923 diary, she and Will
inspected the ranch on September 10, 1917, and bought it the next day
(her birthday). Although Will continued to run some cattle at the
Big Red until mid-1919, they moved their family of five children on
October 13th to their new home--now christened the X4 Ranch after
their cattle brand. Here Jessamine's talent for capturing the transitions
in the world of ranching and the life of their nearby neighbors the Crow
and Northern Cheyenne people would come to fruition. Here they
would build their lovely stone house that became the center for many
festive occasions year-round for the community. Also, two more lovely
children would be born here to this adventurous couple.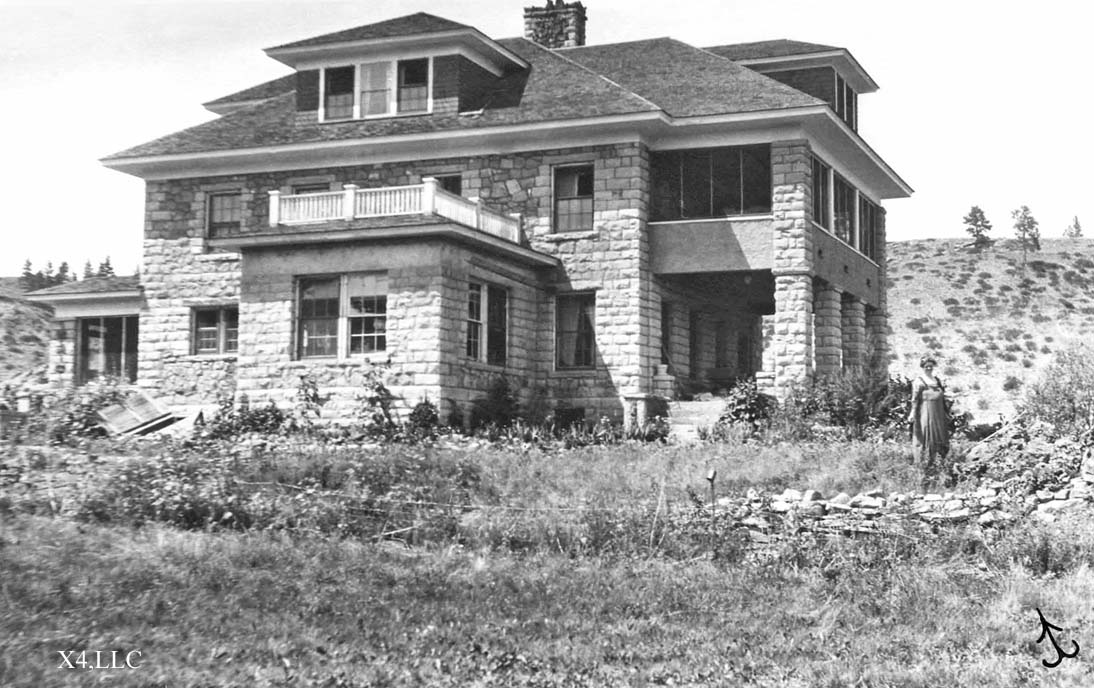 The X4 house in 1919.
Cowboy Jargon:
Shavetail: A tame horse as opposed to a "broomtail", which is a wild range
horse. It used to be common to pluck the tails of the horses as you broke
them, making it easy to spot an unbroken horse.

Shirttail Ranch. This is a small ranch with too little grass, too little
land and not much money. A small ranch was often referred to as a rawhide
outfit, a one-horse outfit, a starve-out ranch and even a stump farm—when
it has newly cleared land.

Sinker: A jocular word for a biscuit, which is also called a hot rock or
a sourdough bullet. Among loggers a sinker is a log too heavy to float.
Who knew? New finds from "Dictionary of the American West," by Win Blevins.

My book "Bighorn Visions, the Photography of Jessamine Spear Johnson" is readily
available from the South Dakota Historical Society Press. Here is the link:
https://www.sdhspress.com/books/bighorn-visions
I will be traveling in Europe starting next week. More blogs coming your way
in mid-June.