The Adventures of Will Johnson
As promised in my last blog, here begins the story of
the young Will Johnson. This is the man Jessamine
Spear fell in love with. Prior to their chance meeting at
church, Will had experienced a multitude of challenges
in several states. Will's parents, Swan and Anna Johnson
immigrated to Nebraska from Sweden in 1864. Born in a
rude log cabin on May 6, 1870, Will grew up on the family
farm near the Swedish settlement of Oakland, Nebraska,
sixty miles from Omaha. Will was the second of nine children
(six boys and three girls). He grew to be a strong willed
and independent young man.

Will left home at nineteen and began cooking in restaurants.
First, he labored over a stove in Omaha, then traveled with
his brother Gus to Texas to visit an uncle. They operated
a restaurant there for two years before discovering they had
been tricked into buying a bogus deed to their establishment.
Disgruntled, they returned home that fall of 1895, gathered
up brother Theodore and sister Connie and headed for Colorado.
They opened a restaurant in Victor near the gold town of Cripple
Creek.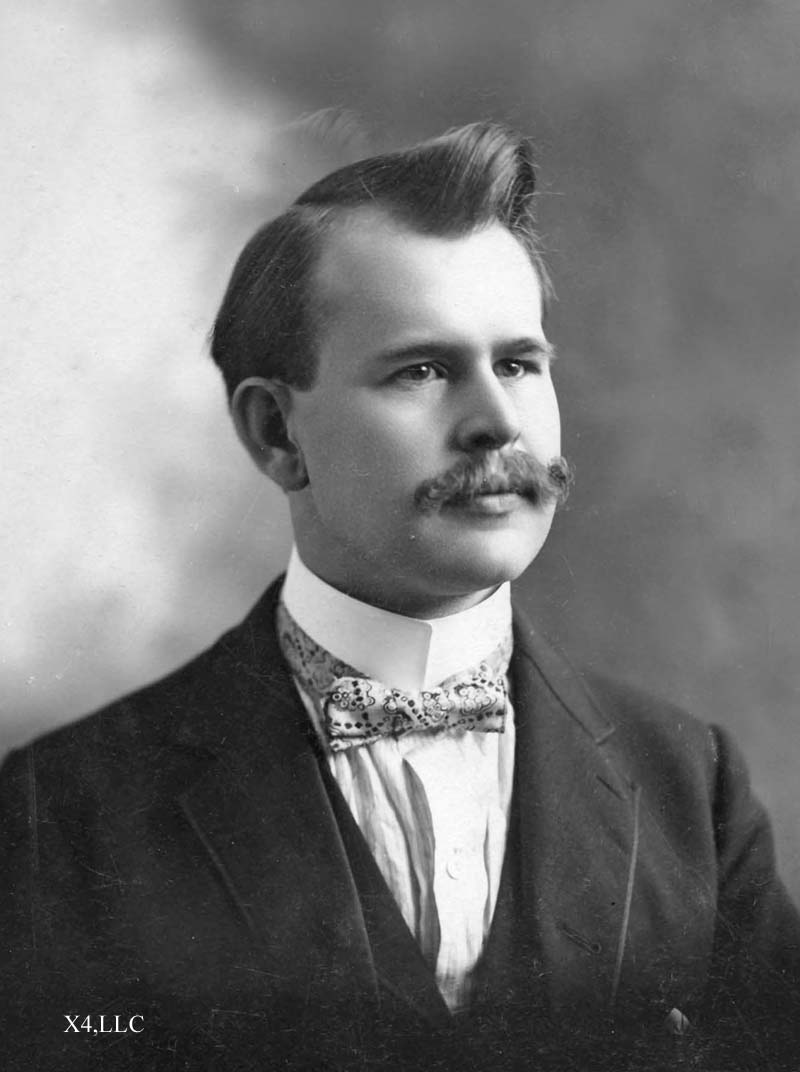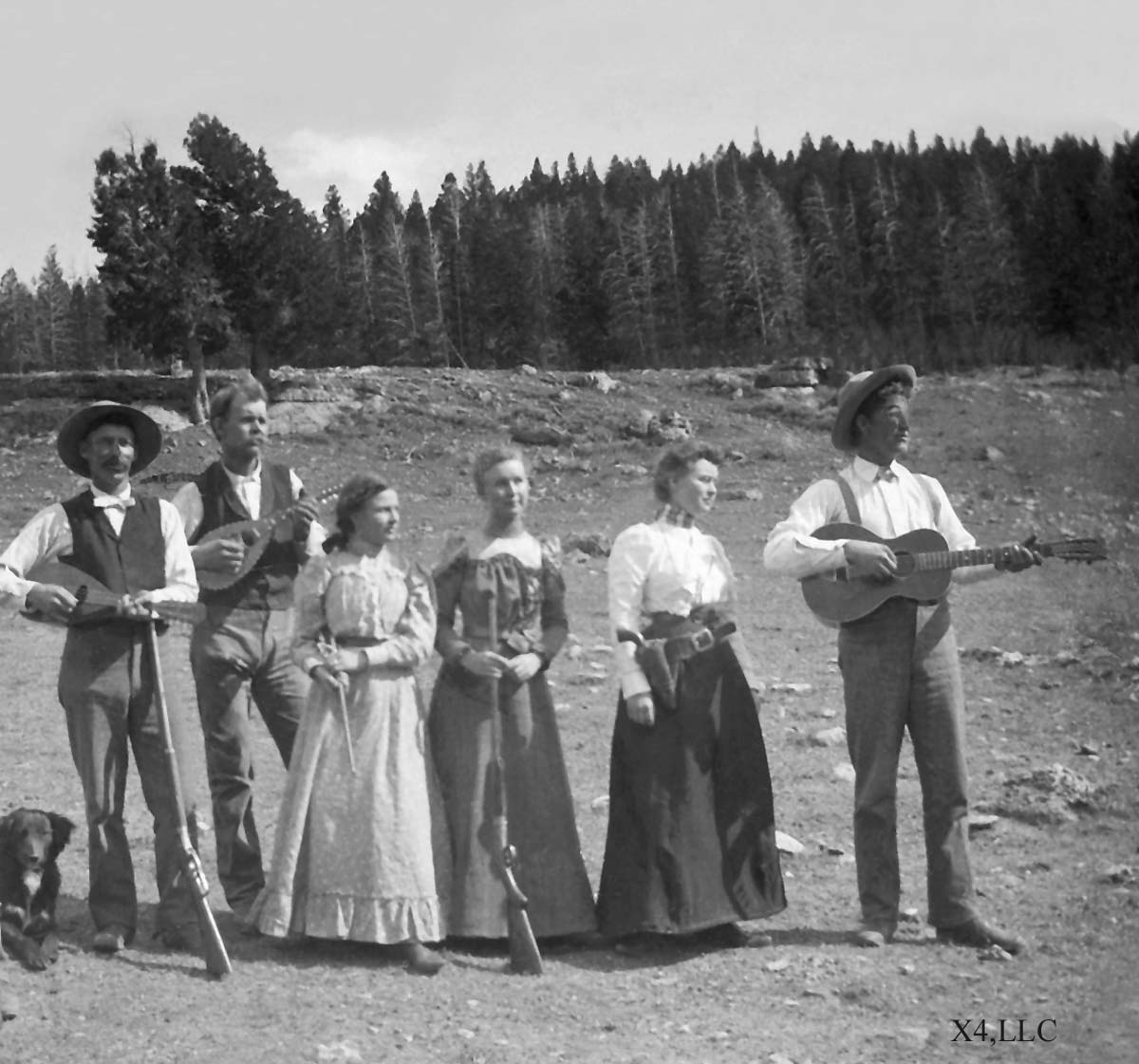 Will in his 20s.
Packing guns, mandolins and guitars, the Johnson clan.
When Will and Theo refused to join the local union, the resulting
boycott put them out of business. Will worked for a short while
for another restaurant, but was accosted by a group of union men
one evening. Luckily, he was saved from a fight by the local
sheriff. The sheriff told him to leave town that very night.
Will and a friend caught a train north to try their hand at
panning for gold in western Montana. When his friend took ill,
Will transported him to the local hospital. Gold mining didn't
pan out, so Will took the train to Boise City, Idaho, where his
brother Gus had taken up residence. Will stayed in Boise for a
few years cooking at a restaurant in a large hotel, until home-
sickness sent him back to Nebraska in 1898. Another year went
by before he and brother Theo left to help their sister Connie's
new husband, Charles Waegele, on his cattle and sheep ranch in
northern Wyoming.

Theo and Will learned the sheep business quickly, as Charles
Waegele had many bands of sheep. They were good at it. Will
produced a 93% lamb crop his second-year. Charles then turned
his whole sheep operation over to Will and Theo on shares. All
went well until the local cattlemen decided they didn't want
mangy sheep on "their" open range. They drew a line on the map
and declared sheep would not be allowed to cross their line.
That didn't work well. Another war erupted in Johnson County.
This was the Sheep and Cattle War—as opposed to the Johnson
County War or the War on the Powder River from a decade earlier
(1889-1893).
Great excitement ensued when a cowboy fired upon Will's camp in
1903. Will was in the hills nearby, but spotted the perpetrator.
He then confronted the cattle ranch boss on the streets of Buffalo
a few days later. Angry words were exchanged. A week later the
sheriff arrived to inform Will that he no longer had proof of
ownership and must vacate his homestead. Will discovered his deed
filed at the county office had disappeared. He rushed via train
to the capitol in Cheyenne, only to find there was no record of
his homestead paperwork.

Having lost his homestead and facing a drought, Will and Theo
shipped their sheep to Nebraska that fall of 1903. Will moved
to Sheridan in March of 1904 to assist in running the City Bakery
Restaurant with his sister Anna and her husband, Ed Guyer.
There in the expanding town of Sheridan, Wyoming, Will would
meet Jessamine Spear, the love of his life.

I've always wondered what Will saw in Jessamine and she in him.
He was sixteen years her senior, but the chemistry was obviously
there. They remained a devoted couple for the rest of their lives.
Together they operating three different ranches, and finally the Spear
O Wigwam Dude Ranch in the Big Horn Mountains. They retired to Story,
Wyoming in the 1940s. Will passed away in April of 1956.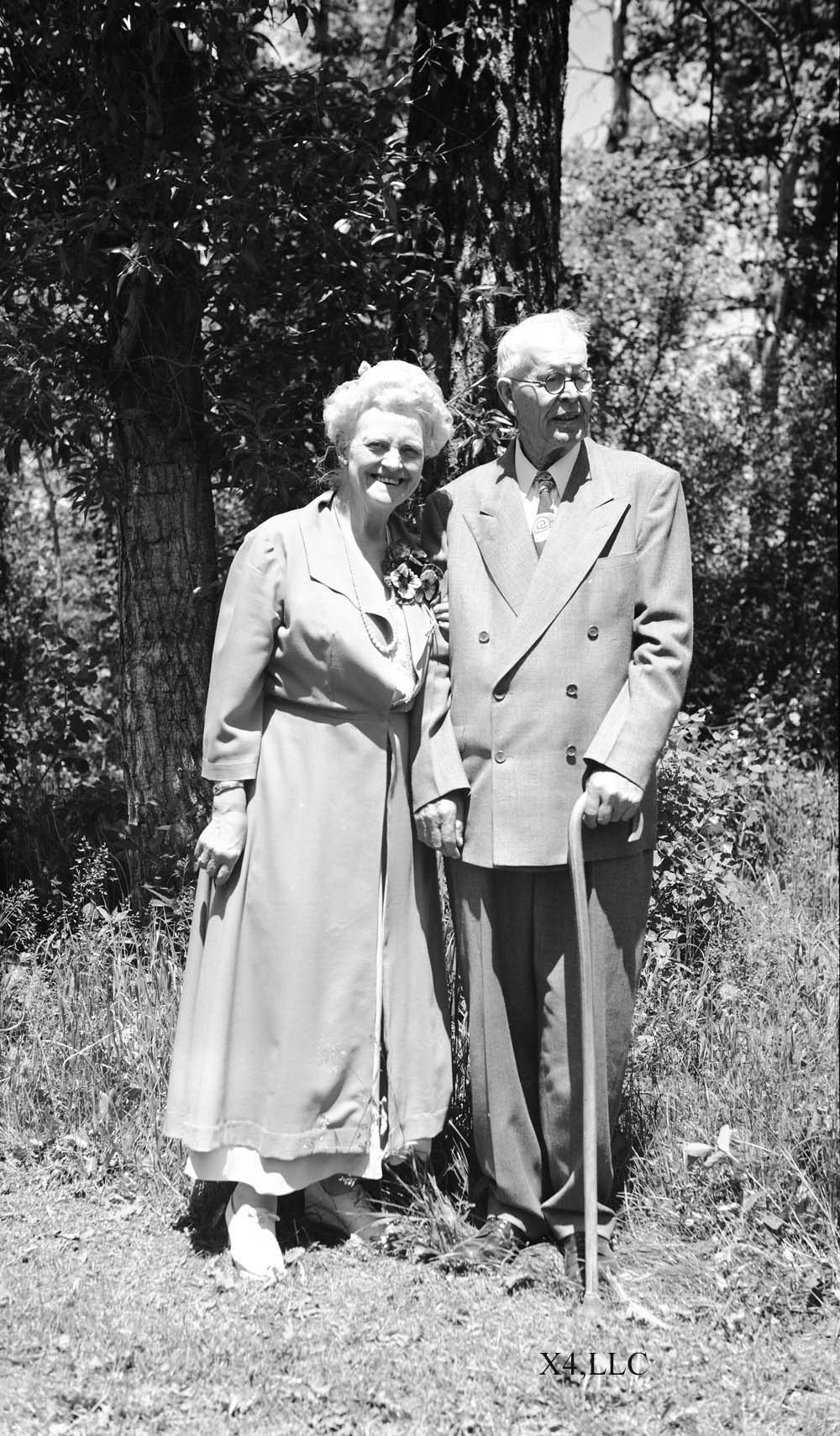 Jessamine & Will in Story, Wyoming, 1954.