Montana Roundup, the Northern Pacific Railroad Poster
In Jessamine's correspondence regarding her famous cattle
herd photo, "The Montana Roundup", she commented, "I
took pictures of the cattle, horses and sheep for many years,
though not so interested in it until 1919, when I began to
really try to get interesting pictures, and the men folks
would let me take pictures. They thought it would scare
the cattle and then they would have a time rounding them
up again."1 Therefore, when taking her photos horseback,
Jessamine trained her horses to stand until they heard the
shutter click.

The inspiration for Jessamine's "Montana Roundup" was not
from L.A. Huffman, but directly from another photographer,
her friend Charles Belden. Charles lived and worked for his
father-in-law, Eugene Phelps, owner of the famous Pitchfork
Ranch in Meeteetse, Wyoming—in the basin country east of
the Bighorn Mountains. Jessamine had admired his photo
"The Call of the Range," and noted in her diary she was looking
for a chance to take a similar image. The fall roundup in 1929
provided the opportunity.

Charles Belden spent many years on the Pitchfork Ranch and
its environs taking marvelous photos of cattle, cowboys and
dudes. Today the Belden Museum's web page states, "The greatest
contribution of Charles Belden to the Pitchfork Ranch was making
it famous in the 1920s, '30s, and '40s."2 Belden took pictures
of the Pitchfork Ranch (and its dude operation) for newspapers
in Los Angeles, Denver, Billings, Minneapolis, Detroit, Cleveland,
New York, and for the National Geographic magazine. Jessamine
would have seen many of these images. Belden's photography invoked
the same love of the Wyoming mountain ranges and ranching life
discernible in Jessamine's photographs. What Jessamine probably
didn't know is that Charles had combined two photos to make this
image. His bawling bull negative was super- imposed on a negative
of a beautiful mountain background--shorthand for "photoshop" in
those days. Jessamine's image however, captured a bull, the cattle
herd, the cowboys, and the countryside all in one unforgettable moment.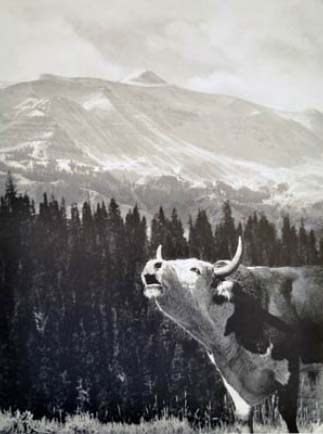 Charles Belden's "Call of the Range"
From of my personal collection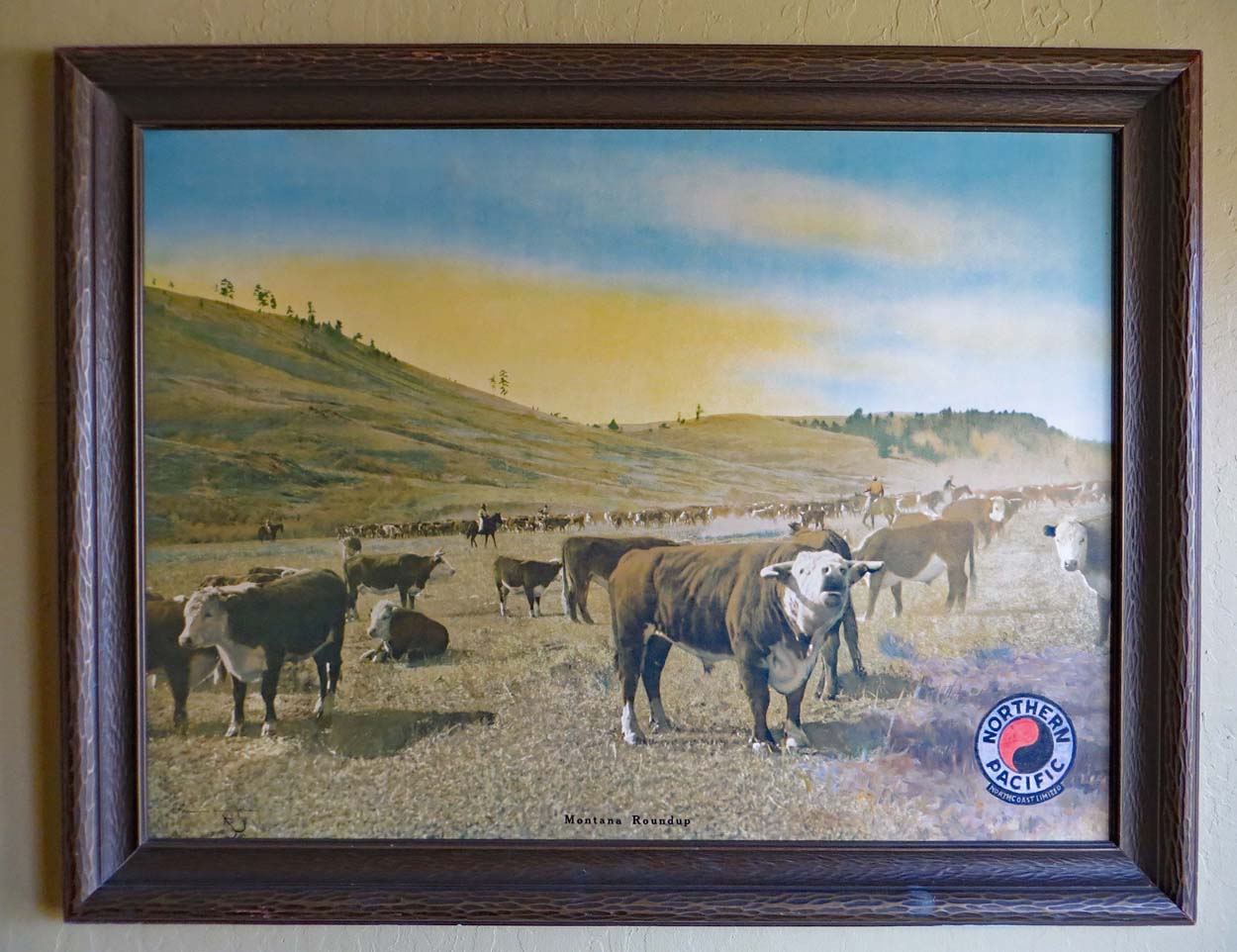 Jessamine's Montana Roundup (aka Montana Lullaby)
From of my personal collection
This is her best-known photo. Soon after taking it, she sold the
image to the Northern Pacific Railroad for a travel poster. The
photo itself reeks of the West with the cattle front and center,
the cowboys gathering the herd in the distance, and the pine
covered hills in the background. Jessamine hand tinted it with
colored oil pens before it was reproduced as a poster. She took
this photo on October 23, 1929 at the X4 Ranch just days before
the 1929 stock market crash. To her great surprise the Northern
Pacific RR bought the photo after the crash, and it became a
success in spite of the timing. It can still be found occasionally
online for sale or in local art galleries in Montana and Wyoming.
A copy hangs in the Montana Historical Society's Museum in Helena,
Montana. The image above is my copy of the poster that I purchased
in an art gallery in Billings, Montana in 2009—just after our stock
market collapse in 2008.

1. Johnson, Jessamine Spear. Quote from a letter to Mr. L.L.
Perrin in St. Paul, Minnesota, dated April 18, 1938.
2. The Belden Museum, Meeteetse, Wyoming. Meeteetse's History
and Heritage website: http://meeteetsemuseums.org/belden_museum.html