Sheridan Artist William 'Bill' Gollings
The Sheridan area was home to another fine artist that
Jessamine Johnson knew quite well. Elling William Gollings
came to the Dakotas in 1896 eager to be a cowhand. "Bill"
had always loved to draw, and continued to do so while
learning his new trade. In the spring of 1904, at the
prompting of his brother, he rode into Sheridan to speak to
Mr. W.E. Freeman. Bill's brother had given a few drawings to
Mr. Freeman, who had posted them in his furniture store, where
they had immediately sold. Bill loved his little hobby, and was
excited that Mr. Freeman wanted more pictures. After painting
a few more canvases, Gollings went back to the roundup until a
check for $50 arrived by mail. Bill concluded he could afford
to be a part time artist. Gollings continued to hire out in the
Sheridan area as a cowboy while he pursued his painting career.
His part time area ranch work placed him in the agreeable company
of the Spear brothers. Bill became a close friend of Doc Spear,
Jessamine's uncle, and was soon riding on pack trips with her
father Willis in the Big Horns. In the book, Elling William "Bill"
Gollings, A Cowboy Artist, there is a painting of Doc astride a
white cow pony pushing a herd of long horned cattle and a lovely
landscape of Willis Spear's Bar V Ranch.*
Gollings received a scholarship to study composition at the Chicago
Academy of Fine Arts in 1905. His compositions became strong and
bold, and usually full of action—bucking broncos, roping wild steers,
gun fights at saloons, brandings, and pack animals trailing into the
mountains. Bill skillfully used lighter backgrounds, diagonals in the
landscape to draw your eye, and simplified subjects to focus the viewer's
attention. His use of color to fashion shadows and mood was masterful.
He also framed his subjects beautifully--skillfully creating the feel
of the big sky and wide-open plains of Wyoming.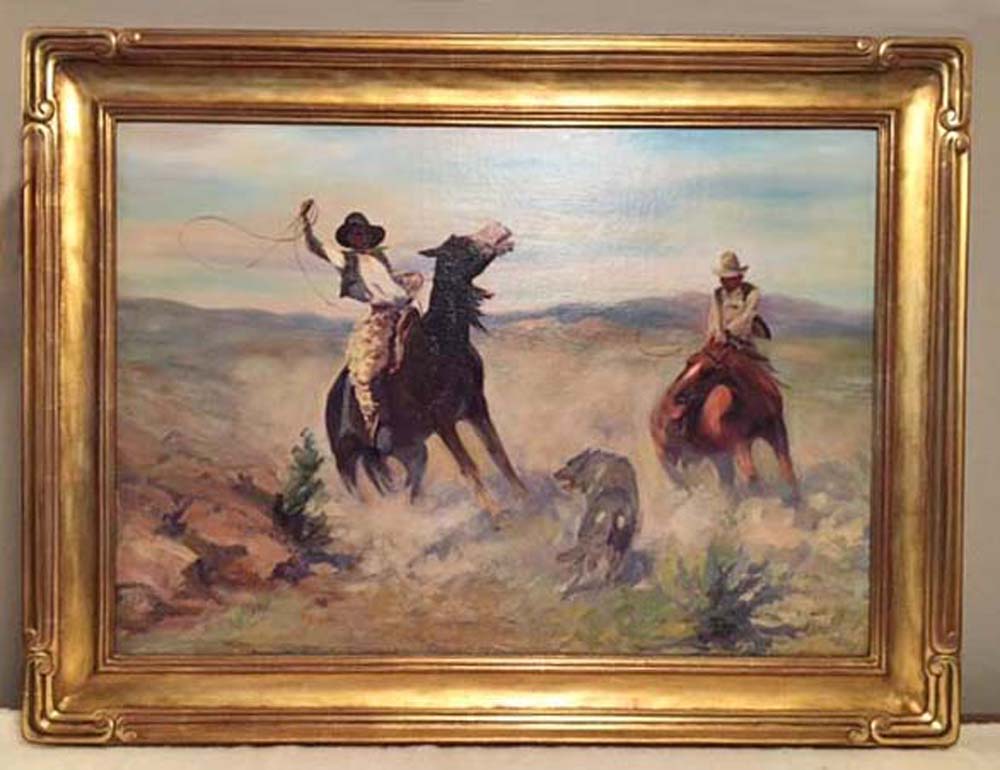 Gollings' painting titled "Doubling Back, 1929.
Previously owned by the X4, LLC.

Elsa Spear, Jessamine's sister, mentions in her diary that Bill accompanied
the family pack trip into the Bighorns in July of 1911. She took a photo of
Bill sketching by the fire (see below).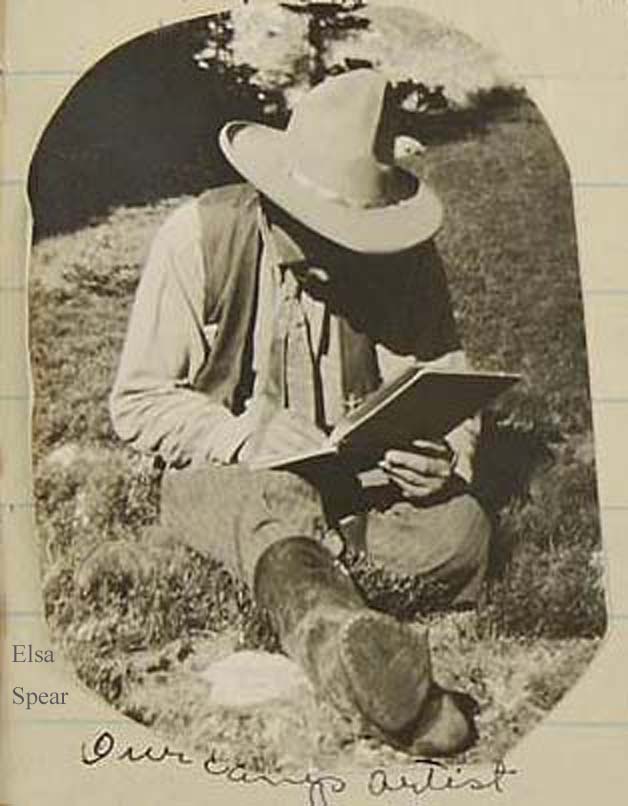 Elsa's photo from Jessamine Spear Johnson's archive.

What an opportunity for Jessamine and Elsa to query him on his recent studies
in Chicago. Bill had a long-standing friendship with Joseph Henry Sharp (one
of the founders of the Taos Art Society). Sharp had trained in Europe and spent
many years in the early 1900's in Montana, specifically at Crow Agency. There
he painted portraits of the local Crow and Cheyenne Indians alongside Fred Miller,
who was photographing them. Through their long-term correspondence, Sharp gave
Gollings constructive critiques of his palette and his painting abilities. Bill's
other close artistic friend, Hans Kleiber, a resident of Dayton, Wyoming, became
well known in the Sheridan area for his etchings and prints around 1926. Hans and
Bill became fast friends. Hans taught Gollings how to create etchings, and Gollings
discussed oils and watercolor with Hans.

What Jessamine learned from viewing Gollings' paintings was his strong sense of
composition, plus an interest in capturing rugged action. Her artistic use of light
and shadow in her own photography probably reflects her study of his work. She too
became expert at framing her subjects using a simple background, getting close to
her subjects so that little in the foreground was distracting. This photo appears
on the jacket of my book about Jessamine.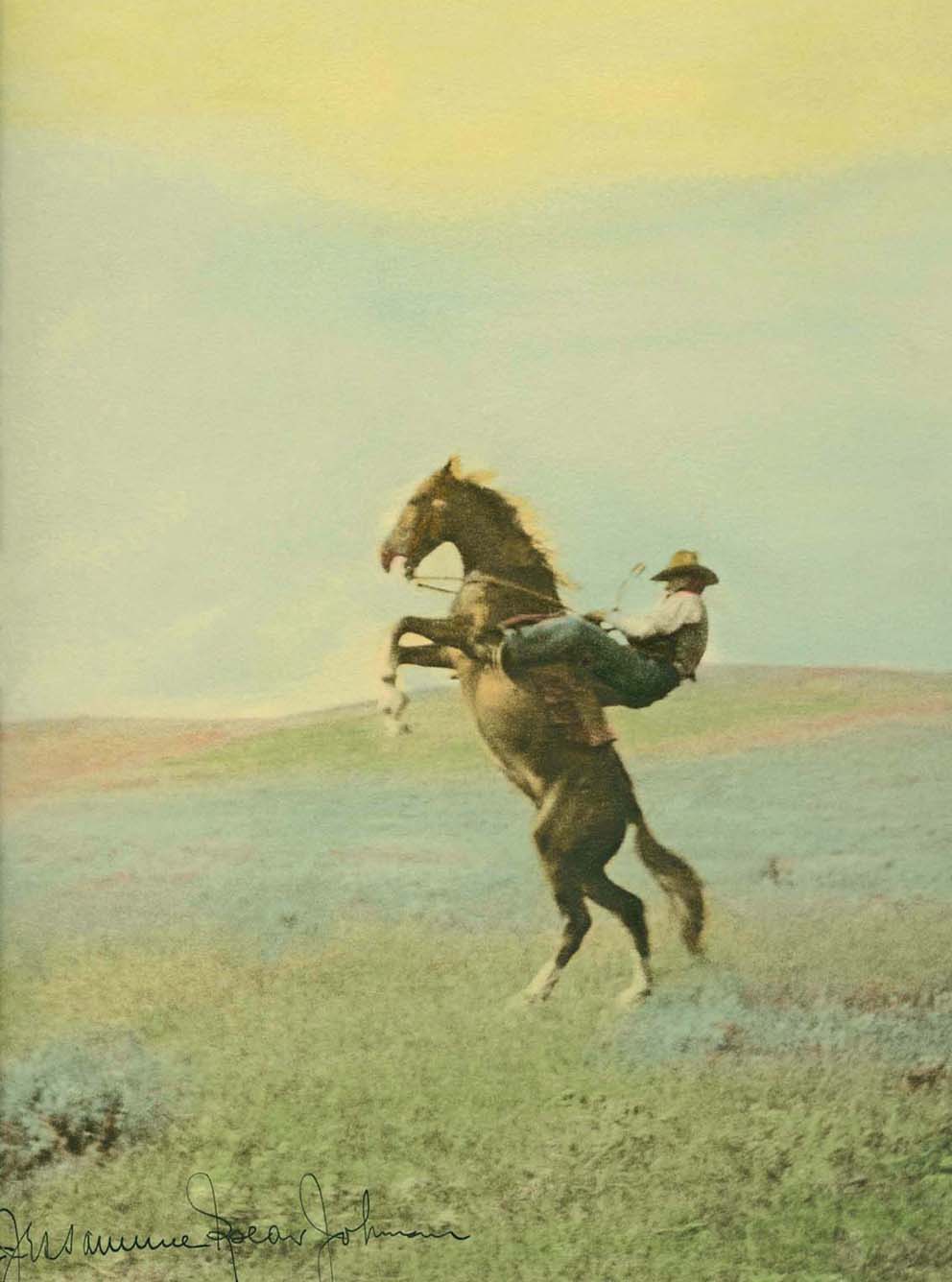 Jessamine's colored photo, "Riding Straight Up."
With Ed MacDougal on Pelican Neck, 1914.

Like many artists, Jessamine didn't live her life in a vacuum, but spent time not only
looking at the art of local artists, but time in their company discussing art in general,
the specifics of composition and/or the use of light to enhance an image. This was
certainly more fun that washing all her family's clothes on Monday and ironing them on
Tuesday.
* Ward, William T. and Gary L. Temple, Elling William "Bill" Gollings, A Cowboy Artist,
pages 176-177. Printed by Patagonia Publishing Company, Argentina, 2007. Copyright by
Willaim T. Ward and Gary L. Temple.