Artistic Influences
As mentioned in my last blog. Jessamine's growing artistic
talent was often guided by her relationships with other artists.
From an increasing number of photographers, painters, and print
makers she picked up techniques and ideas that expanded her
talent as a photographer.
Jessamine's exposure to art began at home. Surviving photos of
her parent's homes show paintings, Indian beadwork and colorful
Navajo rugs. The surrounding indigenous artwork displayed
several of the basic principles of composition: transitions to create
an effect of unity and completeness coupled with repetition and
symmetry.* Without realizing it, Jessamine's artistic eye was trained
from an early age. According to Ann Landi, editor of ARTnews,
"for an artist, early experiences of the visible world may be deeply
woven into the subconscious in ways that carry over into the creative
process."*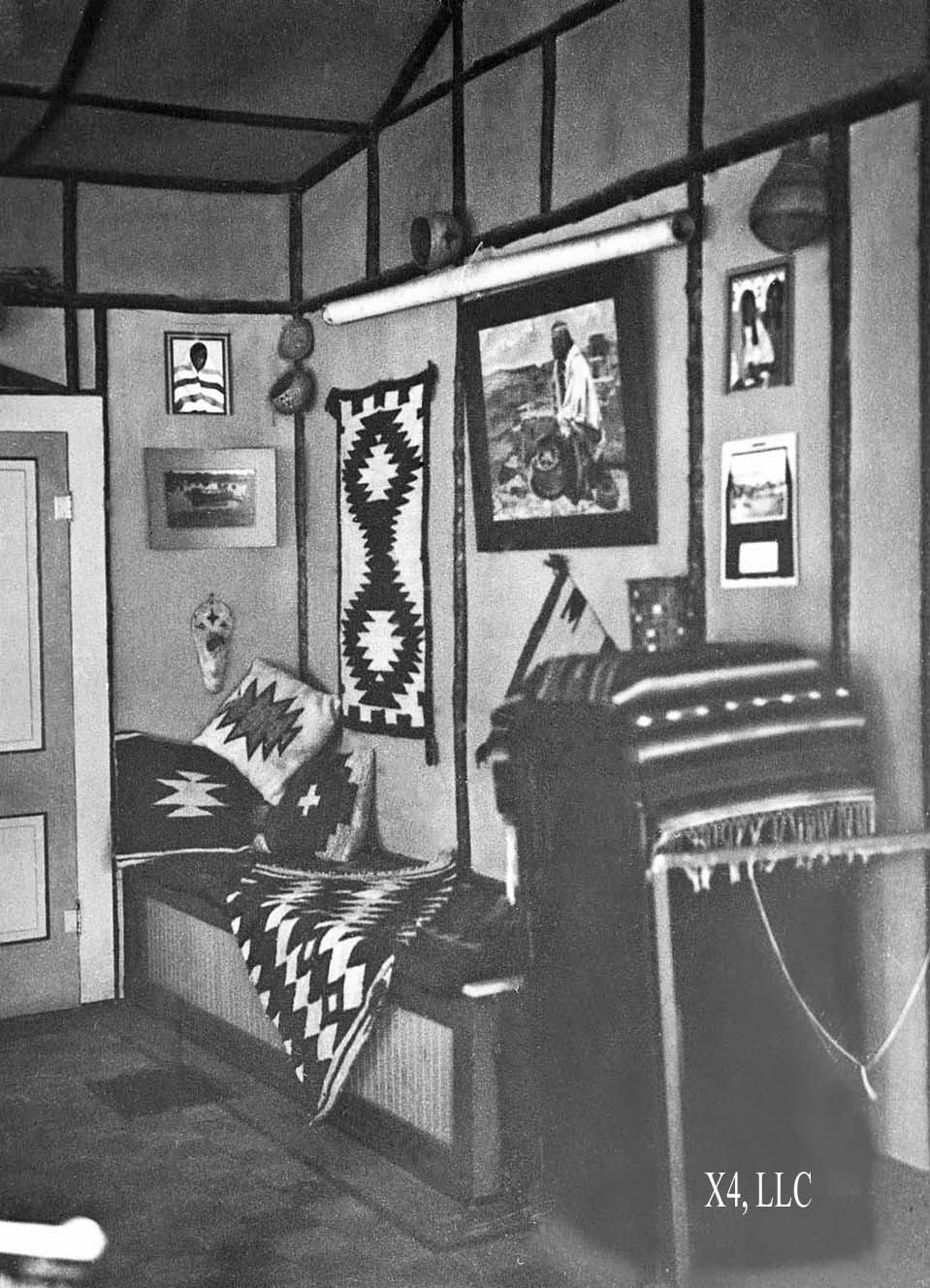 The Sun Parlor in Willis M. Spear's Bar V Ranch, Dec. 1935
Jessamine saw photographer L.A. Huffman's images as early as 1905,
when her father hired him to photograph the Spear Brothers Cattle
Company. Willis Spear was not only appreciative of his family's
pioneering history, he was conscious of participating in an exciting
time historically. The prairie grass that had sustained buffalo for
centuries was now supporting an expansive cattle industry, and he was
part of this new world. Huffman's artistry would provide a permanent
record of the expansion of the Spear Cattle Company.

Huffman's photographic career in Montana spanned the years from the
1880s to the 1930s. Larry Len Peterson's introduction to his book about
Huffman's explains his legacy best.*

"Not only did the general public eagerly collect his photographs, but
Huffman's images also influenced generations of painters who either
directly copied his images or used them as compositional aids to complete
their work. Giants of western art such as Frederic Remington, Charlie
Russell, and Edward Borein collected Huffman photographs and sometimes
used them to complete their paintings. Younger generations were inspired
by Huffman's images to pursue photographic careers."

The following Huffman photo of Willis Spear, his partner Mr. Faddis, and
P.J. Morgan is a fine example of a portrait (circa 1905-15). This photo
was taken at ground level thereby creating monumental figures. This three
figure symmetry is eye-catching. The roundup tent in the background
creates depth of field. Jessamine used this unique perspective, i.e.,
ground level, to enhance the importance of her photographic subjects
throughout her lifetime. This Huffman photo is part of Jessamine's photo
archive held by the X4,LLC.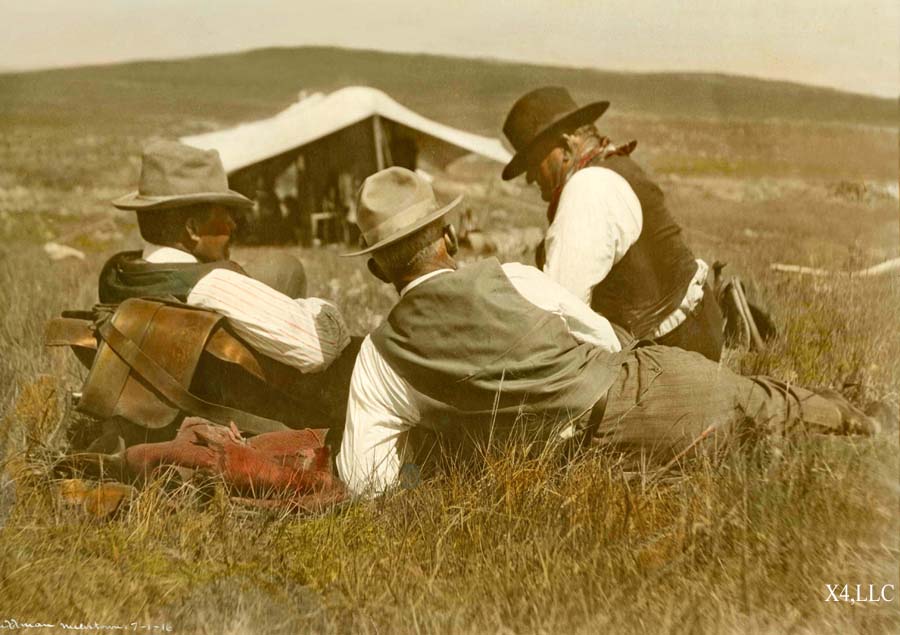 Huffman's photo of Willis Spear, Mr. Faddis, & P.J. Morgan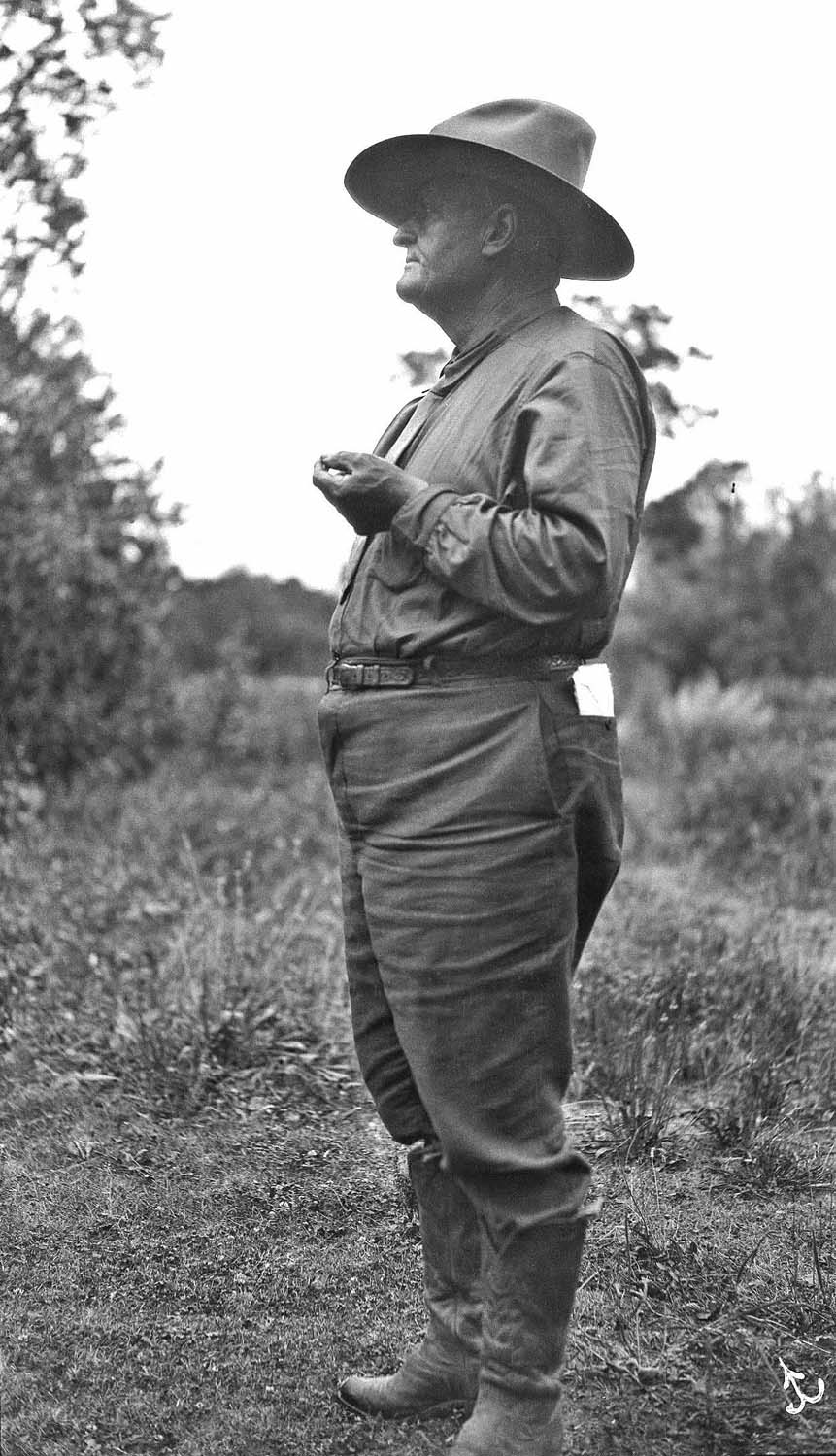 Jessamine's photo of her father in 1929.
Huffman's images were reproduced widely in the early years of the twentieth
century. Cowboy poet, Charles "Badger" Clark, used a Huffman photograph on
the cover of his popular poetry book, Sun and Saddle Leather in 1915. Badger
Clark's poetry was a favorite of the Spear and Johnson families and several
volumes survive today. Huffman photos were also used in Badger Clark's next
book, Grass Grown Trails in 1917, and in Kate Hammond Fogarty's 1916 book,
The Story of Montana.* Jessamine and her extended family, all interested in
Huffman's success, would have seen many of his contact prints, enlargements,
printed postcards, and collotypes.

Huffman's influence can be seen in Jessamine's photos of cowboy life. What
Huffman began earlier, Jessamine carried on in spirit, recording life on the
range in southeastern Montana. Huffman's great love was the Old West, before
the Indians were confined to reservations, followed by the first cowboys
trailing their herds from Texas. Jessamine lived through the end of the open
range and into the beginning of a more modern age for the cowboy—ranch lands
were more restricted, but more productive. Her photos document these changes.
She also recorded the changes on the local Crow and Northern Cheyenne
reservations and the beginnings and tremendous growth of dude ranching.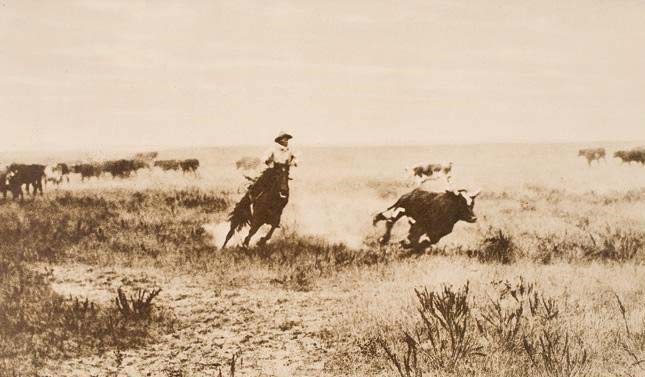 Huffman's photo of Jessamine's brother Phil cutting
cattle (circa 1915). From my personal collection.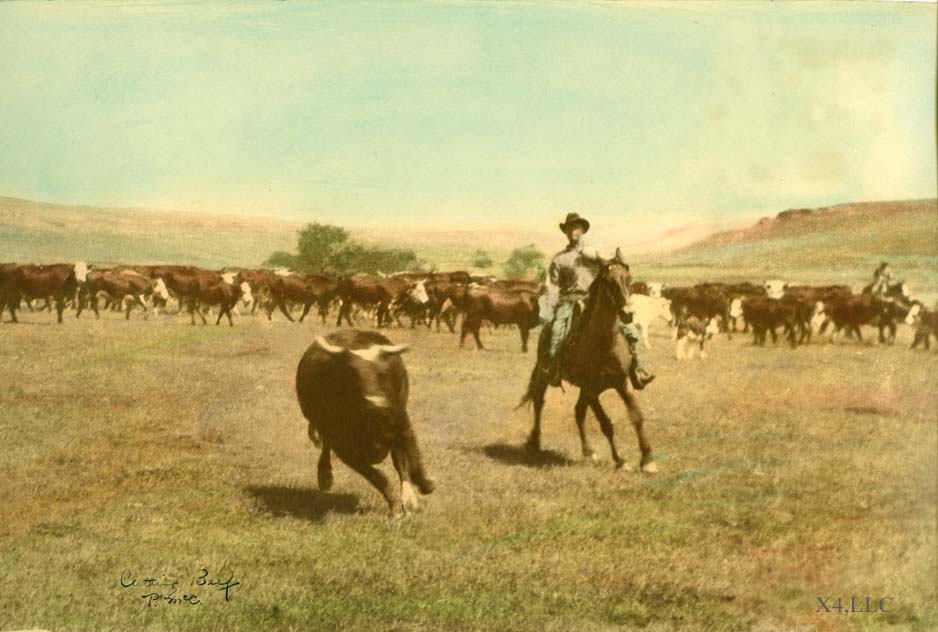 Jessamine's hand colored photo of Paul McCormick cutting
cattle on Tullock Creek. Paul was her uncle by marriage.
Jessamine expanded on what she learned from viewing Huffman's photos of
cattle ranching when she began to 'draw in' to her subjects creating action
shots where the cowboys and cowgirls filled the frame of her pictures. This
technique she picked up from her close friend William "Bill" Gollings. More
about Gollings' influence in my next blog.


* 1. Dow, Arthur Wesley. Composition. Benediction Classics, Oxford. 2010.
Page 21.

* 2.Landi, Ann. The Artistic Influences that Made Artists Artists. ARTnews,
posted 5-27-2014 on artnews.com.

* 3. Peterson, Larry Len. L.A. Huffman, Photographer of the American West.
Settlers West Galleries, Tucson, Arizona. 2003. Page viii.

*4. Peterson, Larry Len. L.A. Huffman, Photographer of the American West.
Settlers West Galleries, Tucson, Arizona. 2003. Page 20.